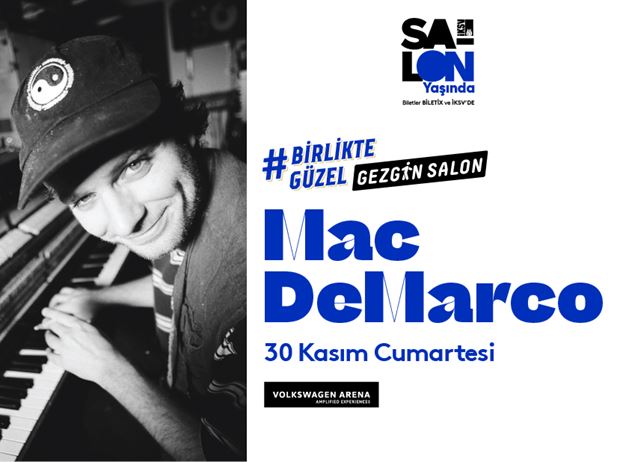 About the Event
What is Gezgin Salon?

Gezgin Salon took off in 2017 when Salon decided to grew out of its walls. It hosted Agar Agar, King Gizzard & The Lizard Wizard, Wolf Alice, Amyl and the Sniffers, Kiasmos, Pantha du Prince, Polynation and Pional in its first three editions at various locations around the city.

Good news: We will be taking a lot more trips, more frequently from now on.

Even better news: The next star of Gezgin Salon is one of the most anticipated names of contemporary music in Turkey, a figure who is expected to leave its mark on the year 2019. You asked for it, here it is! Ladies and gentlemen, buckle up for the Turkey debut of one of the most unprecedented indie rock stars, Mac DeMarco, which will take place on 30 November at Volkswagen Arena.

Who is Mac DeMarco?

It is never enough to describe him as a Canadian singer, songwriter, producer… Mac DeMarco is more than the sum of his songs and albums.

He is a profile that twisted the fate of indie rock in the 2010's when everybody believed it has been going through a decline after its heydays in the 2000's. His funny, reckless and care-free attitude makes him one of a kind. We know his songs by heart, keep them in our playlists all the time, watch his videos the moment they are released and impatiently wait for his next step.

His music, described by himself as "jizz jazz", takes a very different turn compared to his counterparts despite sheltering influences of indie rock, lo-fi, psychedelic pop and soft rock. His most recent album 'Here Comes the Cowboy' followed 'Rock and Roll Night Club', '2', 'Salad Days', 'Another One' and 'This Old Dog' that shook the music charts all through 2017. For now, 'Here Comes the Cowboy' is the most refined product of his musicality that gets deeper with every step despite the growing effortless feel.

He lists Shuggie Otis, Black Sabbath, Pete Seeger, Jonathan Richman, Genesis, Sting and Weezer among his favourites. When it comes to his inspirations, John Maus, Ariel Pink, Isao Tomita and R. Stevie Moore come into the picture.

"Chamber of Reflection", "My Kind of Woman", "Cooking Up Something Good", "Freaking Out the Neighborhood", "Nobody", "Salad Days" and "Ode to Viceroy" have already become indie rock classics that we surely will listen to with the same pleasure and feelings after ten years have passed.

It would be unfair to skip mentioning his live performances where he absolutely cuts a rug on stage. Get ready for the final concert of Mac DeMarco's European tour in the scope of Birlikte Güzel: Gezgin Salon. You will see what we are talking about.

See you at the Mac DeMarco concert that will surely be a threshold in your life.
EVENT PROGRAM
| Timings | Location | Events |
| --- | --- | --- |
| 00:00 | Volkswagen Arena | Performance |